+
Audio Amplifier Uses
DVD Players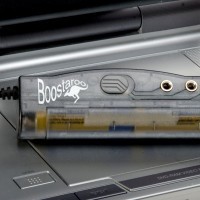 Hear your DVD player better with our amplifier.
Get double the volume with clear audio and no added distortion.
Plug the amplifier into the headphone jack of your DVD player. Then, plug in your headphones to one of the audio outputs, and you are good to go.
Up to 3 people can share the Boostaroo via the amplifier's built in audio splitter.
The Boostaroo DVD player amplifier is self powered. So, there is no additional drain on your DVD player. If you are traveling for long periods, you will not have to worry about recharging.
"I bought this at a kiosk in the airport, because my kids and I were tired of straining to hear our DVDs and other audio devices over the engine roar. This simple device makes a world of difference." ~ Amp Owner Carl H.
"I bought this product and WOW! I wish I found it sooner! Half a year ago I bought a portable DVD player but I could never hear it in the car. Now, I can hear it with good clarity. If you have a product you can't hear well, buy this!" ~ Amp Owner John R.