+
Audio Amplifier Uses
GPS Audio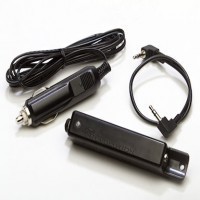 Trouble hearing your turn by turn directions? Try our GPS audio amplifier.
The Boostaroo GPS Amplifier provides four times more volume, with greater audio clarity. Road and motorcycle noise won't be a problem when you use our GPS amplifier.
Our GPS amplifier is small, light weight, and will easily install to your motorcycle or car. Simply plug the amplifier into the audio-out of your GPS, then plug the output of the amplifier into your helmet, speakers, or the (aux) audio input of your car or motorcycle stereo.
"I use the 12v powered amp on my GPS audio to feed the Aux input on my 2009 Harley-Davidson Ultra Classic. Without the amp, my headset volume was set at 100% and still it wasn't loud enough to hear. Now the volume is set at about 50% and there's plenty of sound. The quality of the audio is pretty good but with helmet headsets, great ain't gonna happen. The install was easy and the amp was small enough to tuck back into the rat's nest in my fairing. I enjoy my mp3 tunes much more now." John B.
"I purchased you amplifier for my Harley Softtail. I was looking for a small concealable amp to boost the output of my GPS . What a product! I can listen with ear plugs at less then half volume. I will be getting another one to boost my GPS before the aux input on my other Harley Ultra Classic." ~ Bill L.