+
Audio Amplifier Uses
Transcription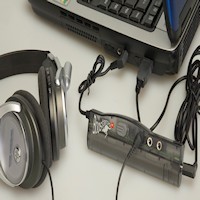 The Boostaroo transcription amplifier doubles the volume and increases audio quality.
The Boostaroo transcription amplifier is a great asset for court and medical use. The amplifier increases the audio and allows you to better hear recordings.
The transcription amplifier is easy to use. Connect the input audio cable of the amplifier into the headphone output jack on your PC, or laptop. Then connect your headphones into one of the amplifiers three outputs.
Whether you are using earbuds, pc speakers, or headphones; our amplifier will give you the best audio playback possible.
"I use the Boostaroo at work and at home. I use it all the time and I absolutely love it. I highly recommend it!" ~ Valerie Looby Washtenaw County Court
"I must say this is a really great thing for medical transcription." ~ Rosi W.
"I transcribe medical reports. This is the first time in my life that I have not had to have the computer volume control all the way up plus the speaker volume up half way. Now, I have the PC volume only 1/4 the way up! THANK YOU FOR A PRODUCT THAT WORKS." ~ Rebecca W.