+
Audio Amplifier Uses
Hearing Amplifier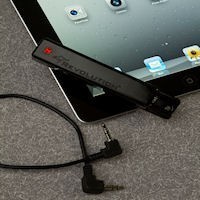 When you need assistance hearing the audio from your TV, iPad, or iPod, the Boostaroo Revolution hearing amplifier delivers. Compact enough to bring anywhere, the Revolution hearing amplifier is ideal for, TV listening and much more. The Revolution amplifies sound from your TV or audio player clearly, and easily. 40 hours of battery life ensures long-lasting performance. Use the amplifier with a variety of earphone and headphones of your choice.
The Boostaroo Revolution is an audio amplifier and splitter for wired and wireless headphones. It provides up to four times more volume and allows up to two headphone connections.
Don't be fooled by other, more expensive hearing amplifier products. You can get quality sound and audio separation with all the volume you need by adding the Boostaroo Revolution amplifier. You will not believe the difference.
Our patented circuit separates audio, allowing you to hear the dialogue separately from the music and sound effects.
We're so sure that you will love what the hearing amplifier will bring you; we offer a full 90 day guarantee and a 1 year warranty. If you don't absolutely love it - return it.
I have a profound hearing loss and finding a MP3 player that is loud enough for me to hear was a hit or miss. I can't tell you how many MP3 players I have bought and had to return because I could not hear the music on them. Even the cool MP3 players like the ZUNE, and IPODS. I bought the Boostaroo thinking that it was going to amplify the sound enough for me to hear. I was thinking that I would have to return it, but I was wrong. THIS ROCKS!!! Trust me, it is worth the money. It is nothing compared to what I have sent in the past! So, take it from the deaf guy. If I can hear with it, then so will people looking for that extra boost of volume to hear the music over machines at work or just loud surroundings. You will not be disappointed with this amplifier! This thing worth its weight in gold!!! ~ Boydine B.