+
Audio Amplifier Uses
Laptops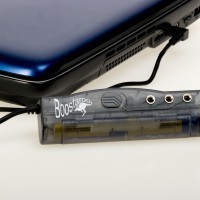 Double your volume with the Boostaroo laptop amplifier.
If you've ever had trouble listening to audio on you laptop, then the Boostaroo laptop amplifier is for you.
The amplifier is powered directly from your laptop's USB port and will double the volume coming from your laptop without distorting your audio.
The Boostaroo is simple to use. Plug the amplifier into the headphone jack of your laptop. Then, plug your headphones, earbuds, or speakers into the output of the amplifier.
"Due to insufficient volume while watching movies on my laptop while in flight, I bought the Boostaroo amplifier. It made all the difference in the world. We'll take no trip without it!" ~ Ted H.
"I just tried your amplifier. All I can say is, (WOW) WHAT A DIFFERENCE! I had to turn down the sound on my laptop for both my speakers and headphones. It is everything you said it would be." ~ Earl C.