+
Audio Amplifier Uses
Tablets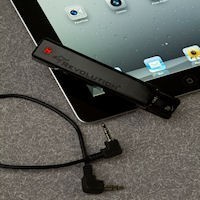 The Boostaroo audio amplifier is the perfect tablet accessory.
The Boostaroo is a compact, audio amplifier and splitter that increases the volume of your tablet and lets you plug in up to two sets of headphones. It provides a way to listen to music, books, or movies from your tablet with improved volume and no distortion. The tablet amplifier is perfect for listening to audio on airplanes, or other loud places.
The Boostaroo tablet amplifier features:
Up to 4x's more volume
Connections for up to two headphones
Better audio quality without distortion
Compact size (4.5" x 1" x 1")
Our tablet amplifier works with:
iPads
Kindle Fire
Nook HD
Samsung Galaxy Note
UpBeat Audio, LLC and it's Tablet Amplifier are in no way associated or affiliated with Apple Inc®, Samsung®, Barnes & Nobles®, or Amazon®, and uses their names with no intention of infringement on their trademark, but only as a benefit to the registered owner. iPad, Samsung Galaxy Note, Nook, Nook HD, and Kindle Fire are all registered trademarks of their respective owners.